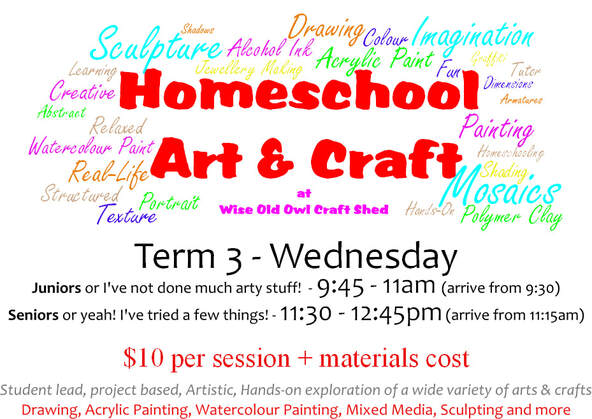 ---
Homeschool classes are being trialled at Wise Old Owl Craft Shed for Term 3. If popular, they will continue.... Each class holds a maximum of 9 students. Parents are welcome to remain (seating, Tea & Coffee available) but are encouraged to let the children explore this own creative style and abilities. Term 3 is designed to cover a broad spectrum of medium including drawing, acrylic painting, watercolour painting, sculpting, jewellery making and more. The classes are split into Junior (recommend 4 - up to 10yrs) and Senior (recommend 9 and above) but it is more about which they feel comfortable in and their own artistic level and interest. The two class groups follow similar Creative outcomes but at differing levels of technical abilities.
An anticipated schedule has been created,
Click here,
however these classes will be student lead - so what they want to learn as a group may differ from the proposed schedule and therefore we juggle things around!. Its all about engaging their creative minds and developing their artistic skills.​
Class size strictly limited to 9.
No lock in Term contract
Pay-on-the-day and confirm/cancel attendance for the following week. Life and health sometimes get in the way. I understand the need to cancel when this things happen.
Returning, regular students will get priority
Additional materials cost will not exceed $10 per class
If you would like more information or to book your child into Homeschooling classes, please complete the form below and I will be in touch.